Retail Security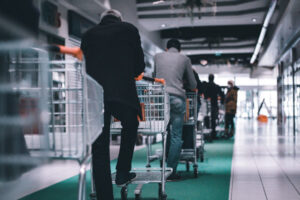 Retail security has never been more important, especially in the world we live in today, retail security can provide much needed support for any sized business where the management of people now needs to be considered more carefully than before.
Here at Heart security, our highly trained security guards are trained to deal with a range of retail security incidents and threats that plague the industry such as shoplifting, anti-social behaviour and vandalism.
If you would like to learn the efforts we are implementing during Covid-19 to ensure our security services and security guards are working within guidelines, please read our COVID -19 Continuity Plan.
Why should you invest in Retail Security?
Retail security covers essential safety and security measures that every retail store should have. If you need a security guard patrolling the shop floor and entrances to help detect suspicious behaviour and act fast should a criminal try to escape the shop, retail security is the best solution for these common issues.
It will come as no surprise that a large number of businesses in the retail sector have experienced some form of theft or threat to their security at some point in time. Should this happen on a regular basis, without the appropriate action, these offences can have a permanent impact on businesses, whether that is employee well-being or loss of revenue.
What some businesses might not realise is the true cost of retail crime; the sad reality is that retail crime cost the industry over £4bn in 2019 and 2018 experienced its own losses with £700m being lost to customer theft alone. It's clear to see this issue isn't going away any time soon.
We now live in a world where regulations and laws have been put in place to protect customers and staff from varying issues so it's becoming more important to ensure that your business is protected by qualified Security Professionals.
Whilst many modern retail outlets use CCTV systems this is, sadly, not enough to deter criminals from attacking your business.
Our range of Retail Security services include Static Security Guards and Mobile Patrols, offering an effective crime prevention method as our trained professionals can react quickly to any situation ensuring that your business premises remains secure.
What are the benefits of Retail Security?
Security Officers can provide many benefits to a retail business, aside from ensuring the safety of customers.  Retail Security Officers are trained to be able to identify suspicious behaviours and can act accordingly to handle the situation.
Visual deterrent to criminals
Security presence helps put customers at ease
Trained professionals can handle security risks appropriately, compared to untrained staff
Swift response and reporting of incidents
It's been proven that security guards act as a visual deterrent to criminals and as they know they're being observed, are less likely to commit the crime in that particular shop, compared to a retail store that might rely on digital security such as CCTV.
Investing in retail security also puts customers at ease, as they know that should anything happen, there is a trained security professional within the store to step in and help to reduce the threat of harassment or injury.
Staff within a retail store may not have received any official training in how to manage or respond criminal activity occur in their store, which could lead to a shoplifter getting away or anti-social behaviour causing further distress to customers and employees.
This reason alone should be enough for any retail business to employ retail security guards, as they can swiftly respond to the situation and take the necessary steps, such as reporting the issue to the police and passing on necessary information needed to identify the individual committing the crime.
Retail Security Guards
Heart security have worked on many projects, such as Shopwatch schemes,  where a security presence has proven to have had positive results both in reducing theft and also occurrences of Anti-Social Behaviour.
Our Retail Security Guards are highly trained and are given a full briefing on your business, allowing them to know what to expect while they are on duty. Should any suspicious activity occur, we can deal with the problem quickly and efficiently.
Mobile Patrols
We are aware that it can be impractical to have a static security officer at your premises out of hours when your store is closed and locked securely. Therefore, we offer a Mobile Patrol Service designed to periodically check your business premises to ensure that it remains secure.
Mobile patrols are especially suited for keeping your store or outlet secure out of hours which not only provides peace of mind but also means that should anything occur, a qualified professional will spot it and deal with it promptly and efficiently.
Key Holding and Alarm Response
Key Holding and Alarm Response is also an ideal service for out of hours premises protection, especially in the retail sector where an alarm is the first defence against a criminal.
Our Key Holding and Alarm Response service ensures that should an alarm activate, a trained security professional can be on site quickly to check the situation.
This removes the worry and stress of securing your business out of hours and also prevents any unnecessary risk to you or your employees, who may otherwise have to deal with alarm callouts should they occur.
Why choose
Heart

security

?

Here at Heart security, we are constantly working with local Crime Partnerships to identify any patterns of crime or spates of attacks in your area. This allows us to adapt and change our service to meet your specific business requirements.

We can provide retail security services to businesses throughout the East Midlands including Nottingham, Newark, Derby and Leicester.
What do our clients say about
Heart

security

?

"SDC Trailers engaged with Heart Security in January of 2015 to provide 24hr manned guard coverage to circa 30 acres of trailer storage in the Greater Mansfield area. We have found Heart Security to be professional, diligent, cost effective and flexible in their approach to the rapidly changing nature of our requirements."

Connor Ward | SDC Trailers

If you need any help deciding whether to choose Heart security, check out our testimonials to see what our customers have to say about out security services.
Looking for something other than Retail Security?
At Heart security, we can provide a whole host of security services tailored to your specific needs and requirements including static security guards, gatehouse security and alarm callout/key holding services.
For more information about our retail security services please contact our professional team today.