Mobile CCTV Towers
Sometimes a site will only need short term monitoring or does not have the infrastructure for a full CCTV or alarm system. This renders them vulnerable to intrusion but a full-time presence on site is too costly.
Heart Security have partnered with company Bauwatch to bring two innovative solutions to businesses throughout the East Midlands. Bauwatch have grown into a leading provider throughout Europe, providing their services not only to the construction industry but also to festivals, warehouse and vacant properties. The possibilities are endless!
How does it work?
When you arrange for a tower through us, our engineers will come out to your site and set up whichever device you choose. You don't need to do a thing. You will then get access to the footage via an app if you wish to. The CCTV is motion detected and will be monitored 24/7 by a dedicated NSI Gold Alarm Receiving Centre. They will then address the intruder via loudspeaker, which will often result in them leaving site. At the same time, our control team will be notified who will then dispatch an officer to site and investigate the situation. This means that there are no false activations (or unnecessary costs to you) and all activity is fully tracked and reported.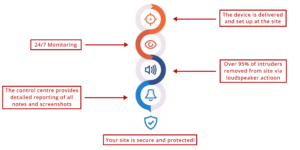 The Systems
Greenlight
1-3 PTZ dome cameras with 50 m range (detection range = 100 m)

2 green LED spotlights (72 W each)

Integrated loudspeaker (120 dB)

Internet connection: 3G / 4G / LTE

Power supply: 230 V with 48-hour rechargeable battery backup

Maximum power input: 210 W

Typical power input / day: approx. 3.3 kWh

Space requirement: approx. 2.5 m x 2.5 m

Mast height: 6.20 m (telescopic)

Weight: 520 kg
Solar
2 PTZ dome cameras with a range of 50 m each (Detection range = 100 m)

1 HD video camera (tamper prevention)

2 infrared headlights

Integrated speaker (120dB)

Internet connection: 3G / 4G / LTE

Power supply: 3 photovoltaic panels, methanol fuel cell, and 48-hour battery backup

Space requirement: approx. 2.5 m x 2.5 m

Mast height: 6.20 m (telescopic)

Weight: 800 kg
For more information about our Mobile CCTV solutions please contact our team or call Heart Security today on 01623 622426