Security within the Hospitality Industry: Restaurants, Pubs & Clubs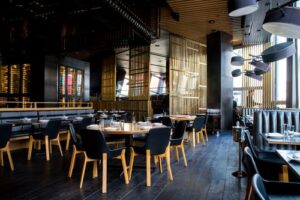 Security within your restaurants, pub, bar or club has never been more paramount. The current circumstances have no doubt left many businesses within the hospitality industry wondering how they can evolve and adapt to government guidelines and restrictions, with a greater emphasis on physical security.
Although it may seem all doom and gloom, there are opportunities for businesses that serve food and drink to prepare, plan and implement important and necessary changes that will help to protect staff and customers throughout this period.
COVID-19 aside, these security methods should be incorporated within your business regardless to ensure your restaurant, pub or bar is protected against criminal activities and customer disputes that can happen on a daily basis within the hospitality industry.
What you can do to improve Restaurant/Hospitality Security?
Aside from the obvious, the way in which the hospitality industry operates has changed in 2020 and therefore security measures need to change and adapt with them.
People management has become a task in itself for many businesses within the hospitality industry and with queues forming that never existed before; businesses should consider how they plan to manage customers and staff in order to stay safe and compliant with current COVID restrictions.
Managing social distancing
Being able to socially distance staff and customers as required will ensure you can to continue working and operating, whilst keeping everyone safe. If you're unable to designate certain staff to 'police' your premises to ensure people are sticking to the guidelines, bringing in an extra authoritative position such as a security guard, can help to manage any social distancing issues.
Understanding possible security incidents and issues
Hiring external security staff helps to identify any security issues that staff may not have the correct training to identify and allows them to respond more effectively. This can help to avoid any unnecessary mistakes or strain on a business's reputation should a staff member not completely understand consumer rights or the latest local restrictions.
Heightening other security efforts
With more facilities having to serve food and drink outdoors, especially in good weather, you may have less staff patrolling the area outside which could lead to missing potential security threats such theft or anti-social behaviour.
Setting specific jobs to staff members
Reduced staffing may lead to regular staff members feeling overwhelmed, tired and stressed, so it's worth assigning staff members with certain responsibilities so the work is shared and not purely left to one person.
What we can do to improve your Hospitality Security?
Entrance and Exit control
Most restaurants, cafes, shops etc have now implemented one-way systems to help with social distancing. Although this is good for managing the flow of foot traffic, it may require additional support, especially if either passageway is on the opposite side of the premises potentially causing a security issue if not monitored adequately.
Door Supervisors can assist by being a responsive individual when a security issue arises. Having additional support within your restaurant, hotel or even supermarket allows for staff to continue their normal roles without having to stray away to deal with a potential criminal or domestic issue.
Increase trust
Your customers and staff may be more apprehensive than usual about performing their daily working routine and so it's incredibly important to create a sense of security and trust with everyone who enters your business premises.
Hospitality Security, Concierge Security and Door Supervisors can provide instant relief by providing trust and safety as an authority figure, should any issues occur. Our team of security professionals have the correct training to be able to deal with issues effectively and can report incidents correctly to the right people in a timely fashion.
Your customers may feel more inclined to come to your business over a competitor for the pure reason that there is an authority figure who is at hand to deal with any situation that may cause stress or panic and shows that you have obviously given thought to providing a safer environment.
Patrolling of the area
Depending on where your business is located you may experience, or want to avoid experiencing, people making their way to the back of kitchens, store rooms etc. where entrances may be unlocked due to staff movement or you may have equipment out of customer's sight, which someone with unauthorised access may come across.
Mobile Security Patrols and Retail Security can ensure the exterior of a building is secure day and night. With more people forming and queuing outside of hospitality venues as opposed to inside, having an extra pair of eyes on groups and individuals can help to steer them away from 'staff only' areas.
Security patrols are also useful to identify any vulnerable areas both inside and outside of your business which could potentially lead to theft or damage. This includes monitoring windows, doorways, lights and other security equipment.
Why choose
Heart

security

?

Here at Heart security, we are constantly working with local Crime Partnerships to identify any patterns of criminal activity in your area. This allows us to adapt and change our service to meet your specific business requirements.

Although based in Mansfield,  Heart security can provide Mobile Security Patrols to businesses in the surrounding areas throughout the East Midlands including Nottingham and Newark, Derby and Leicester.
What do our clients say about
Heart

security

?

"The professionalism displayed at all times from Marie and the Heart Security team provides us with the re-assurance that our Castlewood Site is protected with hard working and trustworthy personnel – Thank you for everything you do in giving us that piece of mind that we are in safe hands 24/7 all year round."

Simon A Allen | Compliance, Safety & Environmental Manager Parker Knoll

If you need help deciding whether to choose Heart security, check out our testimonials for more information about how we can help keep your business safe and secure.
Want to improve the security for your hospitality business?
At Heart security, we can provide a range of security services tailored to your specific needs and requirements including static security guards, Door Supervisors, gatehouse security and alarm callout/key holding services  and lone-worker safety checks?
For more information about our bespoke Security Services to help keep your business safe, please contact our professional team today.