Why Heart Security?
Heart Security is a family owned Security Company run by Marie Tracey alongside her daughters Rianne Tift, Alex Green and, of course, the backup of excellent site and mobile staffing teams.
Heart have been trading since July 2012 and now have an established Client base and an excellent reputation in the East Midlands area.
We recently won the English Women's Awards "Family Business Award" and in 2018 won the Chad Awards for "Business of the Year", "Professional Services" and "Business Person of the Year". We have also been shortlisted for the Enterprising Women's Award for Small Business of the Year for two years running, as well as the FSB Family Business Award and Mansfield and Ashfield 2020 Business Awards.
We are extremely proud of this recognition and of our achievements to date.
All of our Staff hold front-line SIA licences giving us the opportunity to respond to the changing daily demands of our Clients and be truly reactive and proactive in the Services we provide.
We work to recognised British and International Standards including BS7858 for Security Screening and BS7499 Codes of Practice for Static Guarding. We are also ISO9001 certified in Quality Management Systems.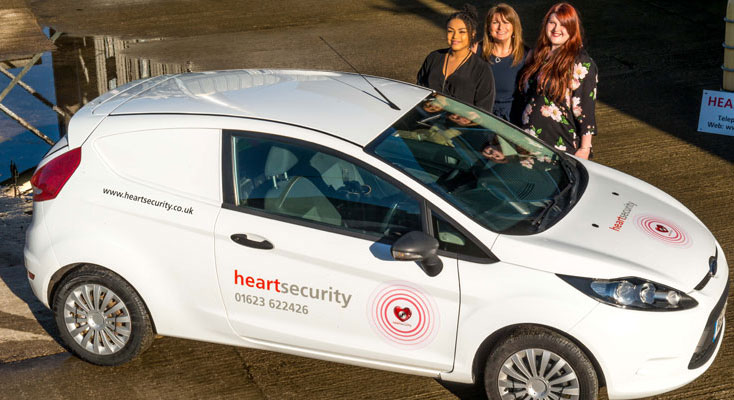 OUR CORE VALUES ARE:
Honesty – and transparency throughout our Business
Equitability – to treat everyone fairly and with respect
Accountability – to our Staff, our Clients and the Public
​Responsibility – both Corporate and Social – with a commitment to our local Community
​Teamwork – to work in synergy in order to be the best that we can be and to foster positive working attitudes
​Heart Security are also proud to sponsor Empire Amateur Boxing Club to help to channel positive energy and team spirit in local youngsters.
Corporate Social Responsibility
At Heart Security we pride ourselves in dealing with our employees, business partners, and clients in an honourable and honest way always and as such, we have created a Corporate Social Responsibility policy which sets out our view of our corporate responsibilities for the environment and communities in which we operate and for the well-being of our staff, partners, public and clients. You can view our Corporate Social Responsibility policy here.